Karaván – street food in Budapest
As usual, we saved the best for last: our final stop at the European tour is nothing less than Budapest! The beautiful capital of Hungary and home of Stefan has a lot to offer – not just culturally. The thing called street food is just about to become popular in Germany, while in Budapest it's already existing much longer. We decided to take a hit on Karaván, a nice street food place in the former Jewish quarter.
1. Location
Street Food Caravan is located in Kazinczy utca 18 in the seventh district of Budapest and is reachable pretty easily with the metro or bus. The small place is found in a side road and is full of different food trucks. It is also located aback so you can sit and eat peacefully without being disturbed.
Karaván is a longish place with food trucks on both sides and a huge place to sit in the middle and at the end. Everything is decorated nicely and mostly covered with canvas so you can still eat when the weather is not that good. All in all Karaván offers a great and comfy atmosphere.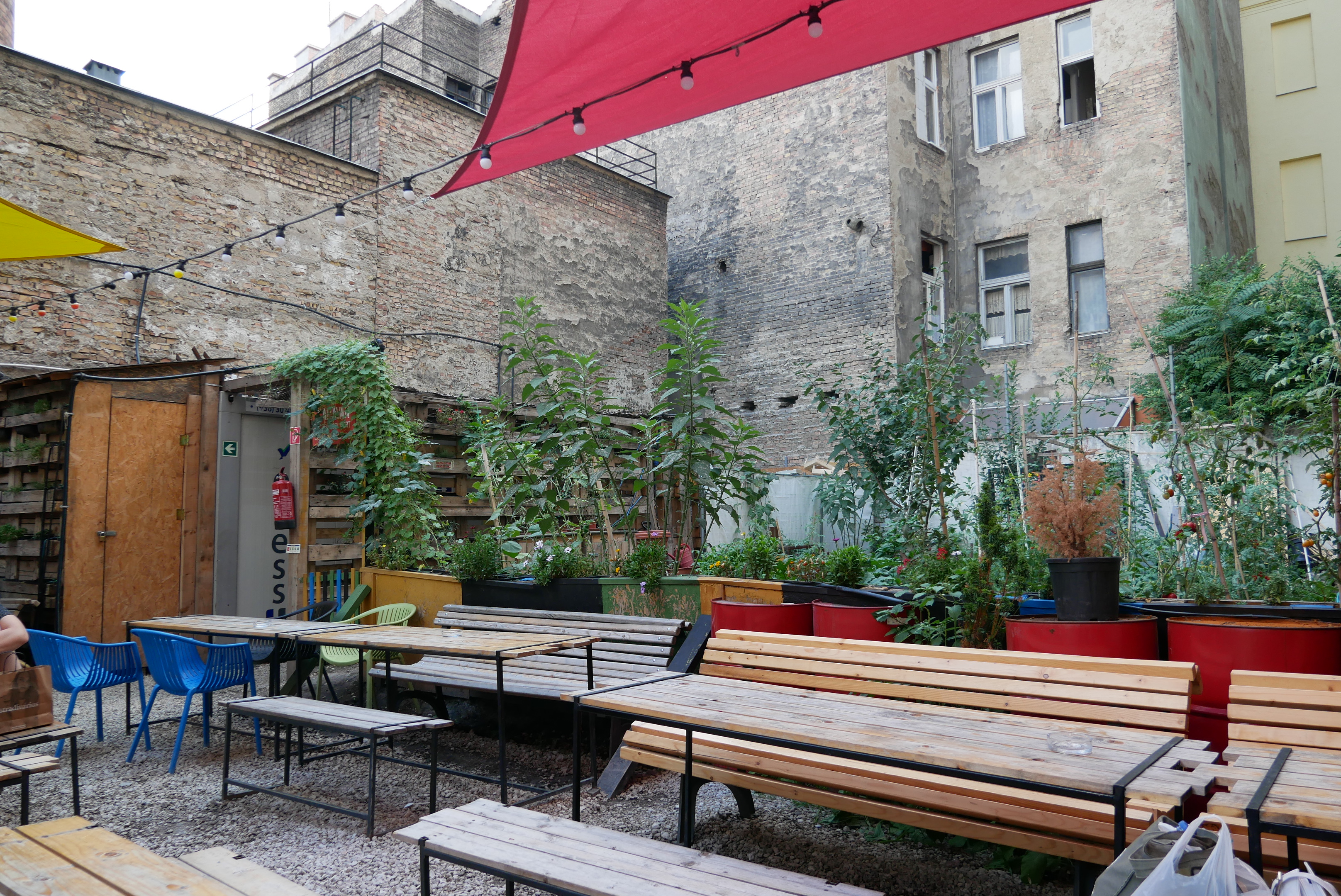 2. Service
The sales people are all very friendly and calm. They speak English as well so the communication is no problem at all.
3. The drinks
Every food truck offers their own drinks, however you can get things like coke, water, coffee or juice almost everywhere. And if that's not enough for you, you can check out some of the bars nearby and get your hands on a drink or two.
4. The food
The good thing about street food is that there is literally something for everyone. Every truck is unique and offers its own very special food creations. From burger and waffles or churros, cake, langós, salads and asian food to pizza, panini and cake pops there is no one left behind. And the best part: there's also a vegan food truck! This is just perfect for our Beef Or Leaf review.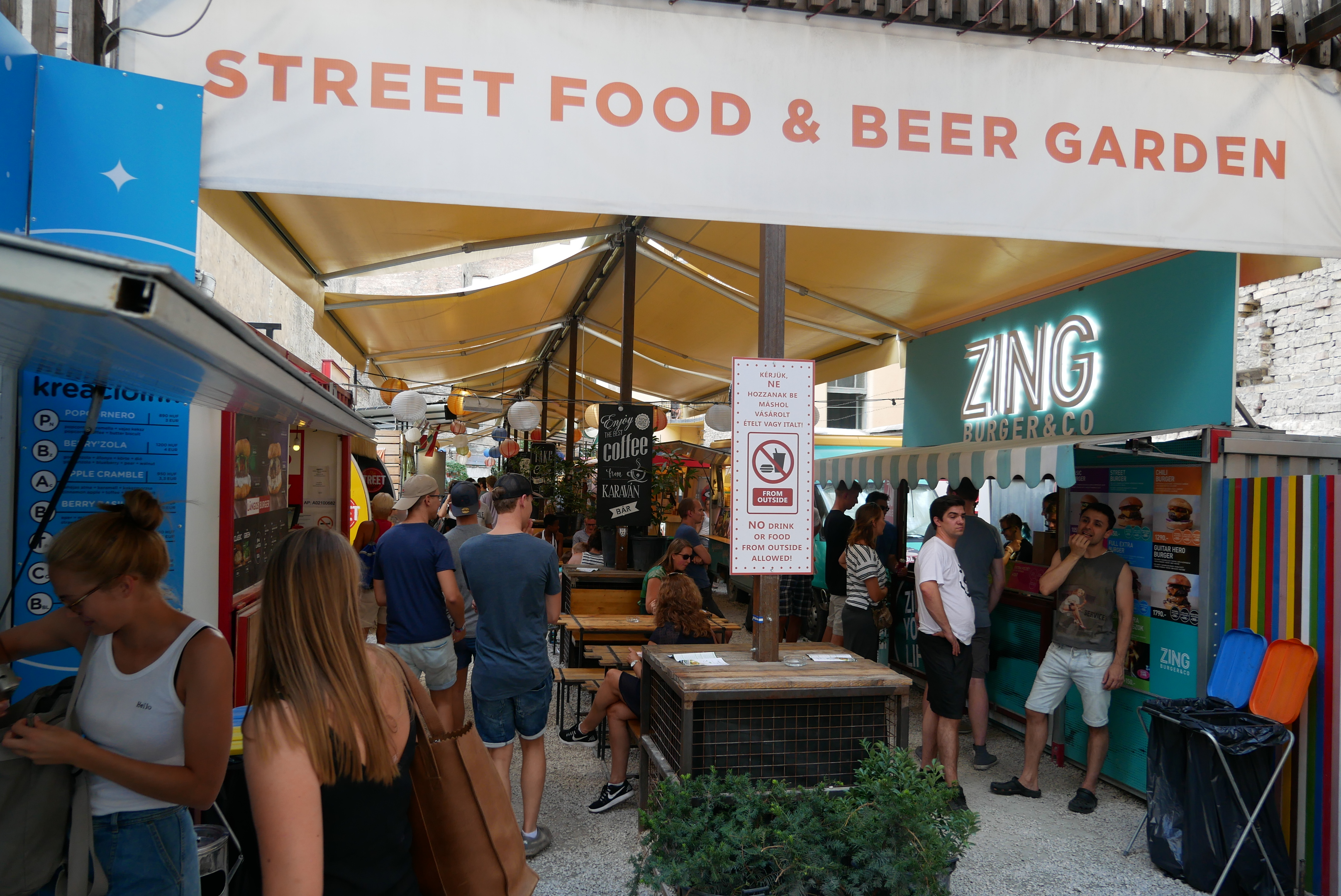 The Las Vegans food truck is the one that Esther is trying today. She orders a vegan seitan burger. Apart from seitan you can also choose vegan burgers with a patty made of soy or chick peas.
Stefan has his eye on a langós-burger which is made of meat, sauce, salad and two langós in stead of burger buns.
The langós burger is definitely something: traditional langós, a Hungarian speciality made of dough, combined with American burger style. The meat tastes very pure and juicy, while the langós are well-done and not too greasy. The bell pepper is roasted and adds a nice spicy touch to the whole thing.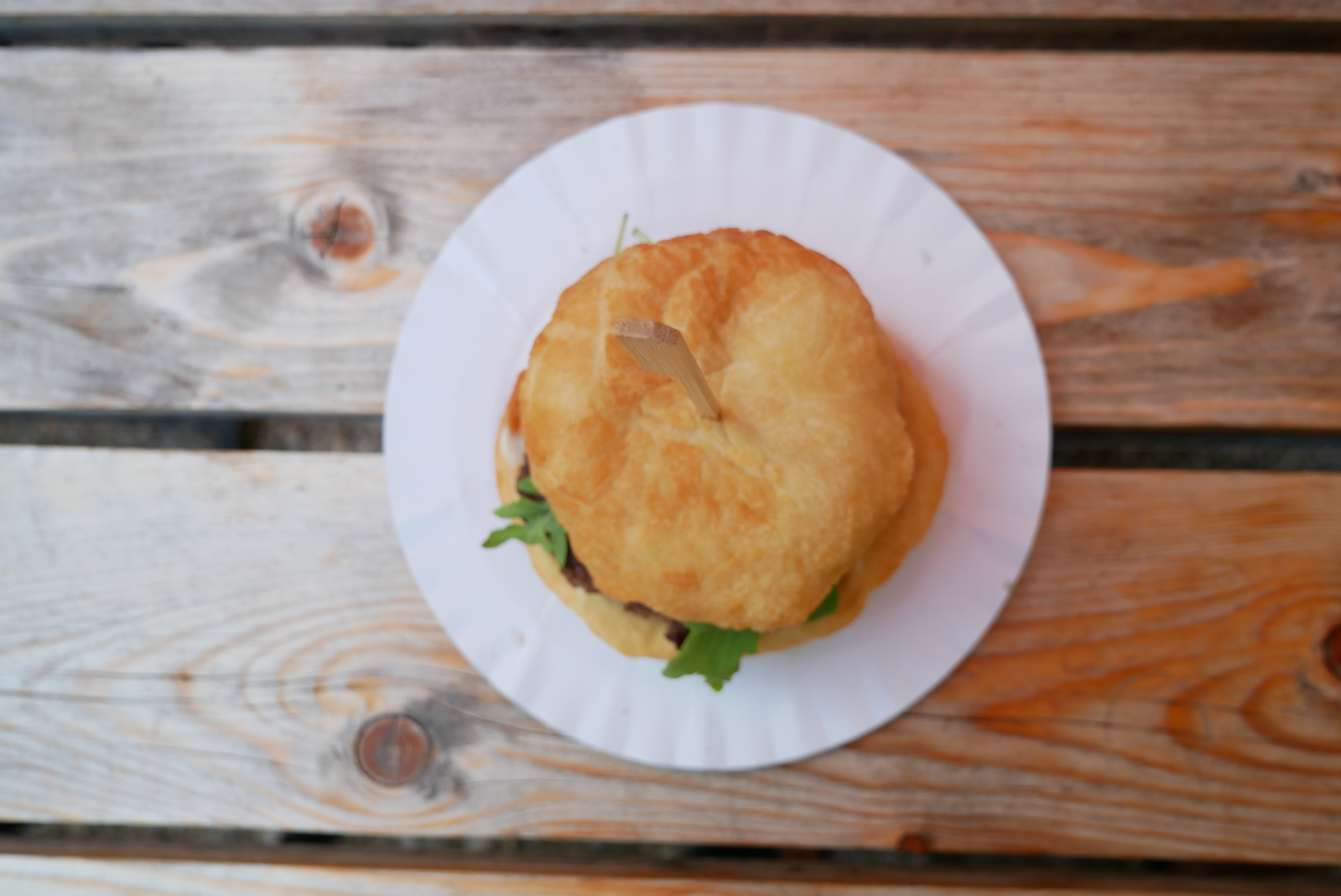 All in all the burger tastes nice and fresh – but be careful! That small thing definitely should not be underestimated and for some it can be cruel to the stomach. On the other side, you will get full as f*** there's no doubt. It's a burger combination that I've not known of until now so it's definitely worth trying for everyone that likes unique food.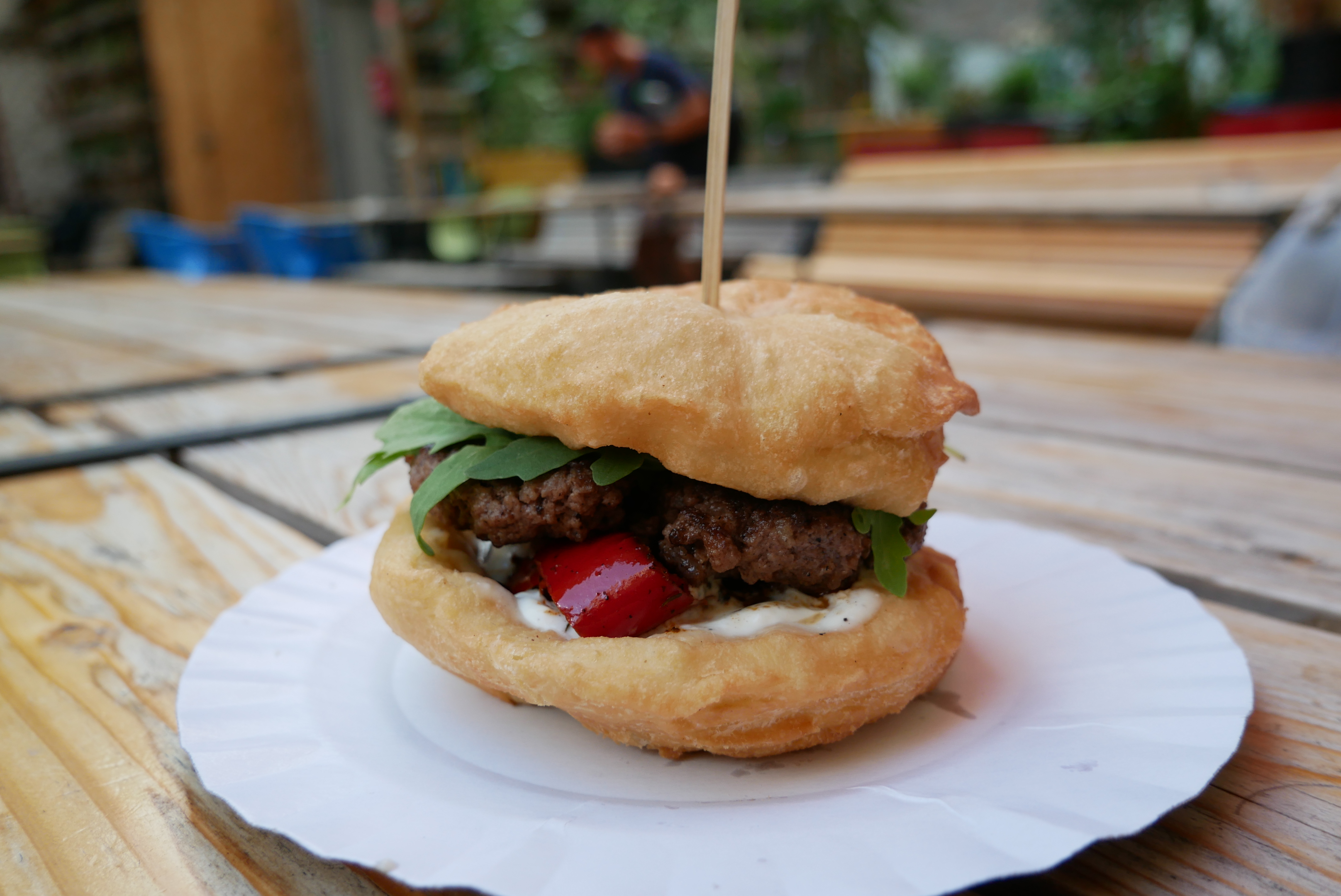 My vegan seitan burger with vegan cheese and vegan mayo from Las Vegans looks great at first. Gigantic, juicy and fresh, served in a cardboard box.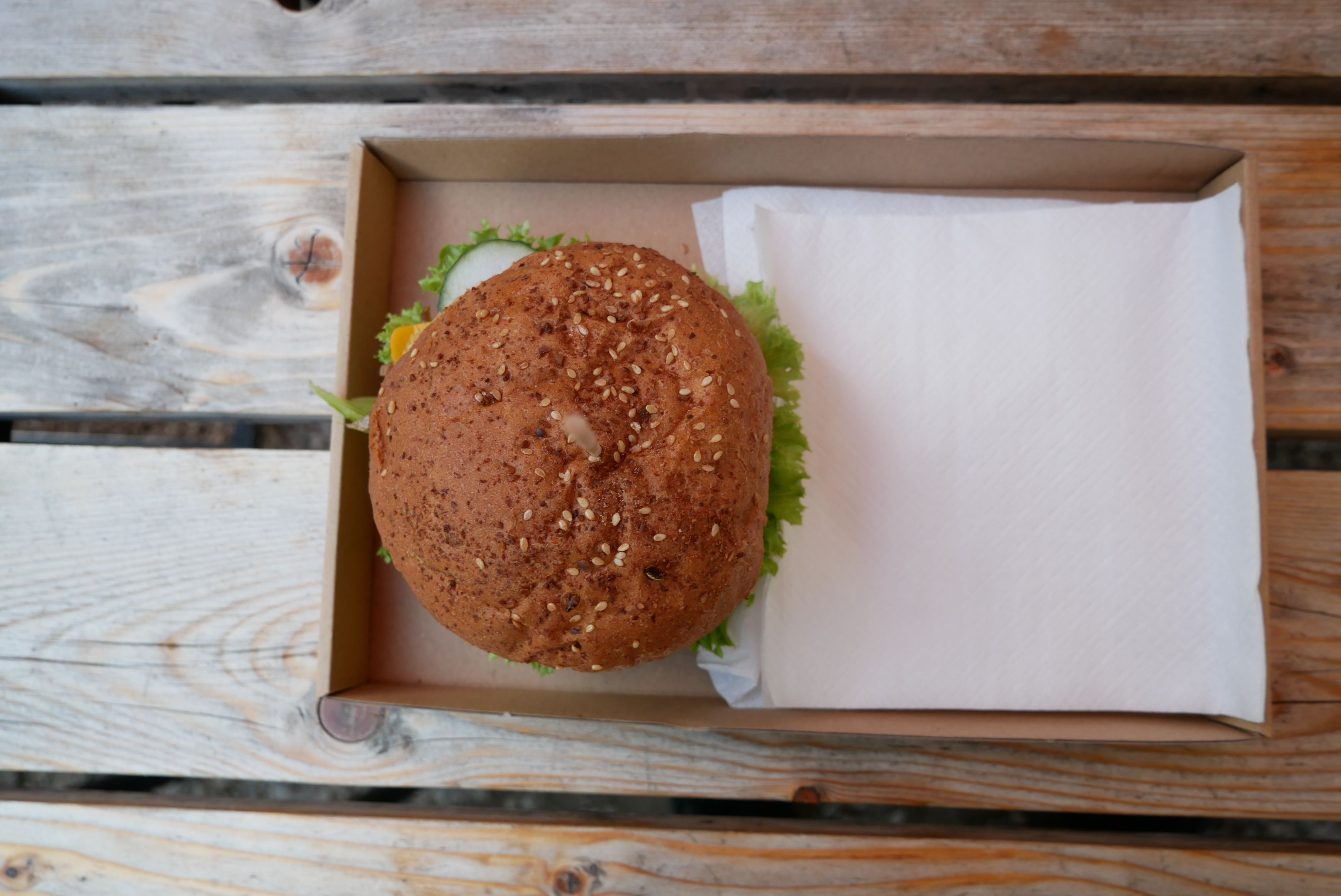 But the taste, I must admit, is not what I expected. The salad is fresh and the buns are toasty. BUT: the vegan cheese is very dry and doesn't really have any flavour. Neither does the mayonnaise nor the seitan patty. The sauce is pretty thin so the whole burger gets watery after a few minutes.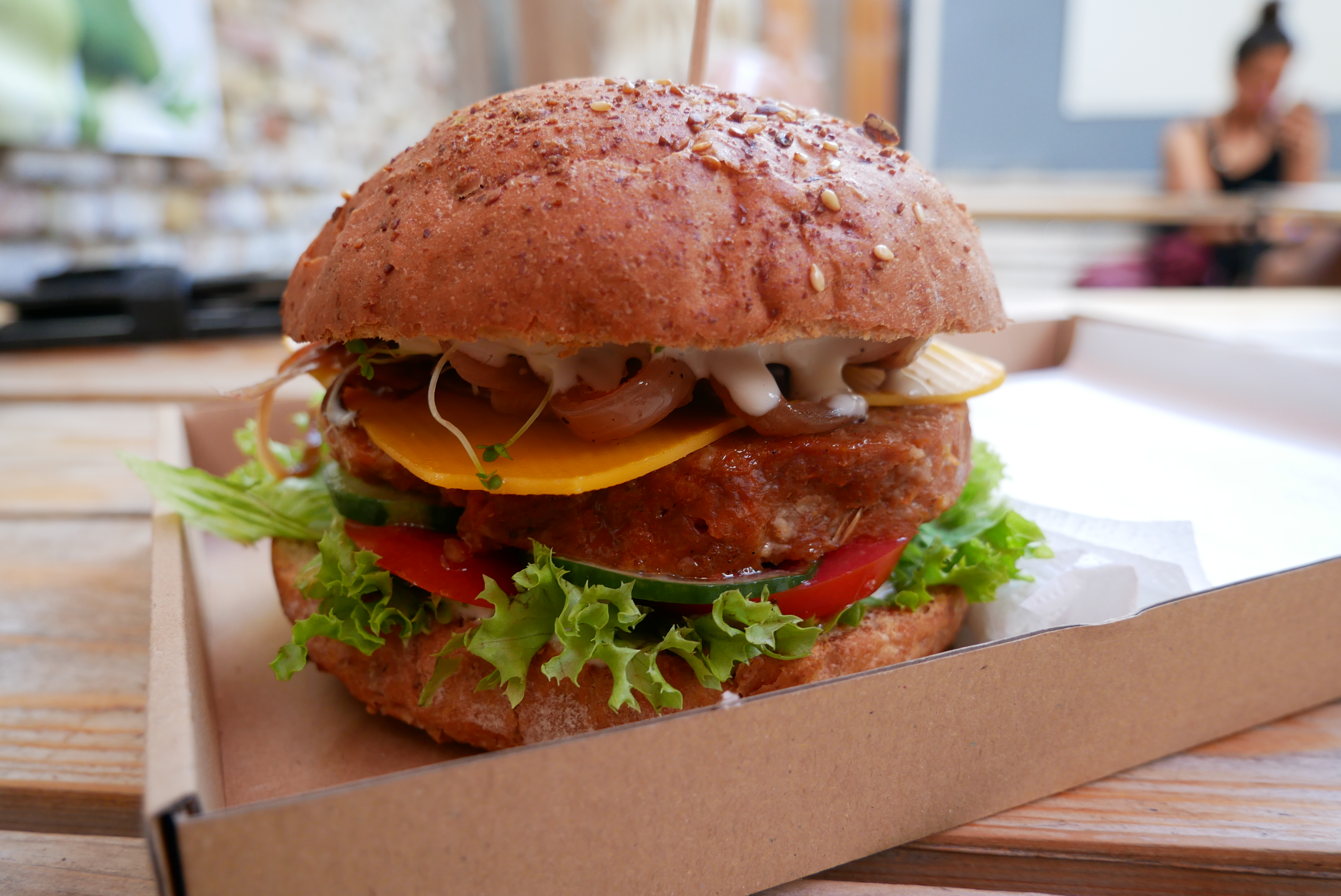 All in all, it's a solid burger which can definitely satisfy your hunger. However, I have eaten better burgers. But there is to say that I haven't tried all of Las Vegans burgers. So there's still a chance that the other ones taste better, I guess you just have to try and find out. Maybe next time, I'll take another one!
5. Nice-To-Know
Street food Karaván is open from 11:30 am until night time.
The prices are mostly under 10 euros for a meal. We paid between 4 and 6 euros for ours. If you visit Karaván, make sure to take enough cash with you because most food trucks don't take credit cards.
Summary
Street food Karaván in Budapest is a refreshing alternative to every regular restaurant. The unbeatable benefit is the great choice of different food trucks. With a vegan food truck included, there is something for everyone to eat – no matter if meat eater, vegetarian or vegan!
BOL