J.T. Pim's – Dublins Food Temple
It's time for another city! Now we're off to Dublin, Ireland, the second-last station of our Europe tour. We have to admit finding a suitable restaurant here is a real challenge because you can't find anything on the internet. Luckily, our receptionist has a hot tip for us so we just start walking through the streets of Dublin. After only a couple of minutes we discover a real gold mine: the J.T. Pim's.
1. Location
The modern restaurant is located right in the city center of Dublin, in South Great George's Street 4 of the popular Temple Bar district.
J.T. Pim's is not only a restaurant, it also includes two bars (yes, two!) and is arranged very modern yet cosy. There are real candles on every table that spend a nice warm light and the decoration is prepared thoughtfully. The restaurant is very crowded as we arrive which speaks for its success!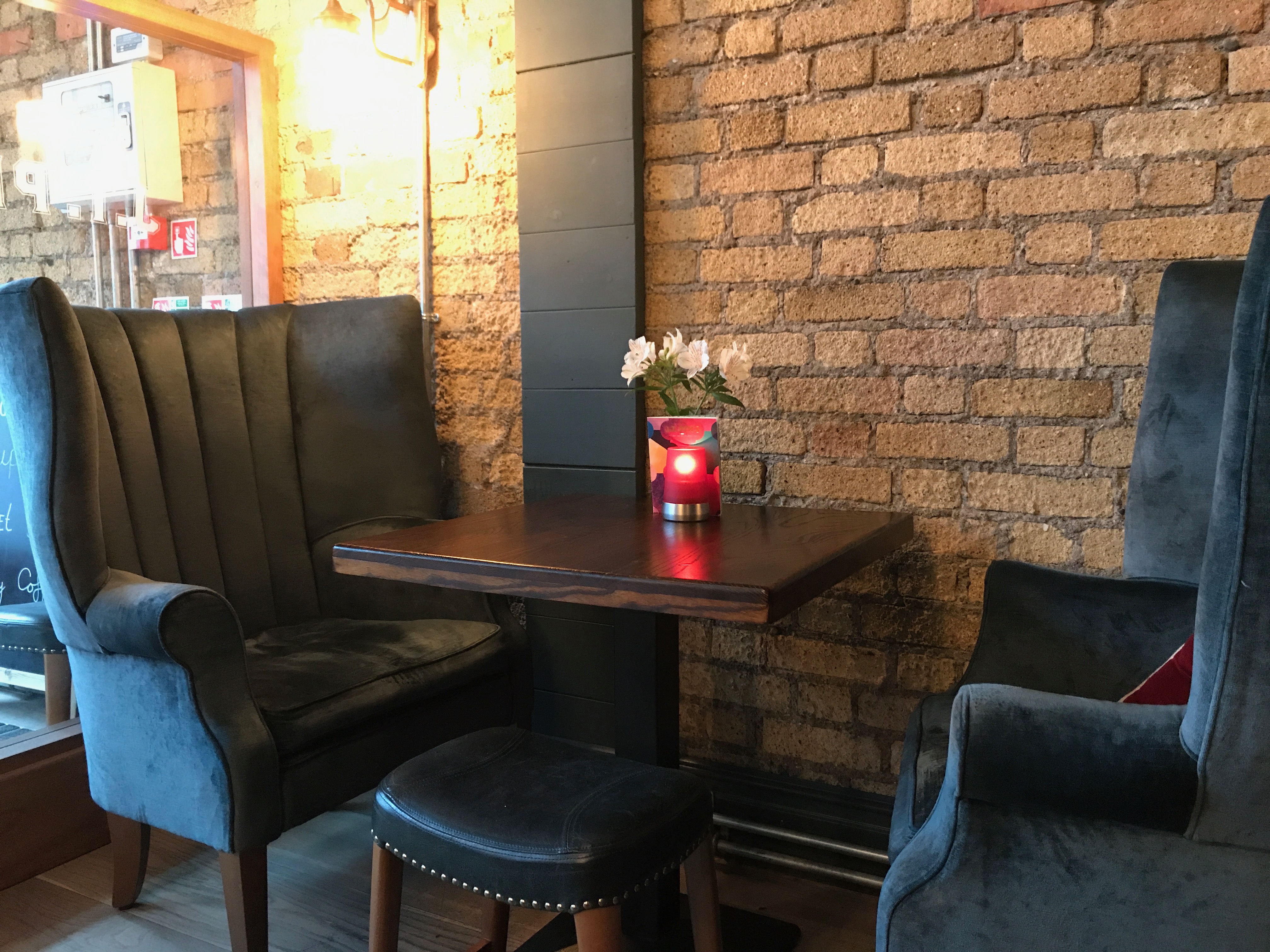 2. Service
The waitresses and waiters are friendly and very quick. You can easily ask them for vegan food options and the drinks as well as the food are served without a long waiting time.
3. The drinks
Apart from the usual drinks such as coffee, tea, water, soft drinks, beer and wine J.T. Pim's also offers an amazing choice of gin and various high-percentage alcoholic beverages.
4. The food
The menu card is promising: J.T. Pim's doesn't just offer standard dishes, you can also choose between regular and exotic salads, a taco bowl, a beef burger with 100% Irish beef and many more. There is one vegan dish but you can also get other dishes as a vegan version. The staff is always happy to help you with this, just ask them!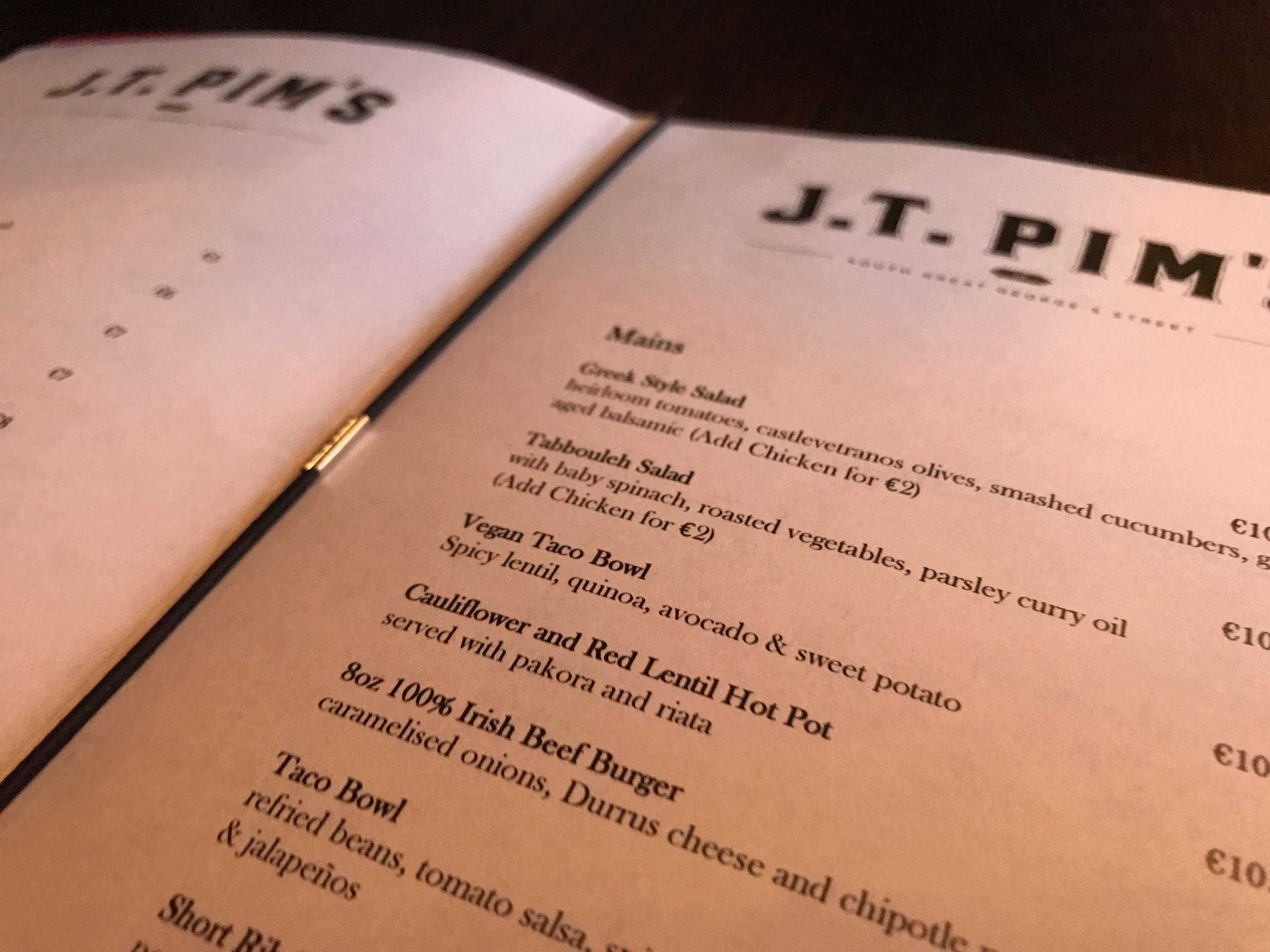 To stick to the beef-side Stefan chooses the 8 oz. 100% Irish Beef Burger as a main course.
Esther tries the vegan Taco Bowl, which by the way is the absolute last one they have to offer, so that was a very lucky moment. At J.T. Pim's they only offer a limited amount of dishes, so if they're out that's it. The vegan Taco Bowl is sold out very often so you have to be quick!
The main courses cost around 10 to 14 Euros which is actually still cheap for Ireland.
My Irish Beef burger with 100% Irish beef (I just love writing beef) simply tastes amazing. I've tried many many burgers but this one is special. The meat has a typical Irish spice I would say which tastes a little different than in Germany. It has its own slightly smoked and kind of woody taste. The bread is made by an in-house recipe and has a nice crispy texture.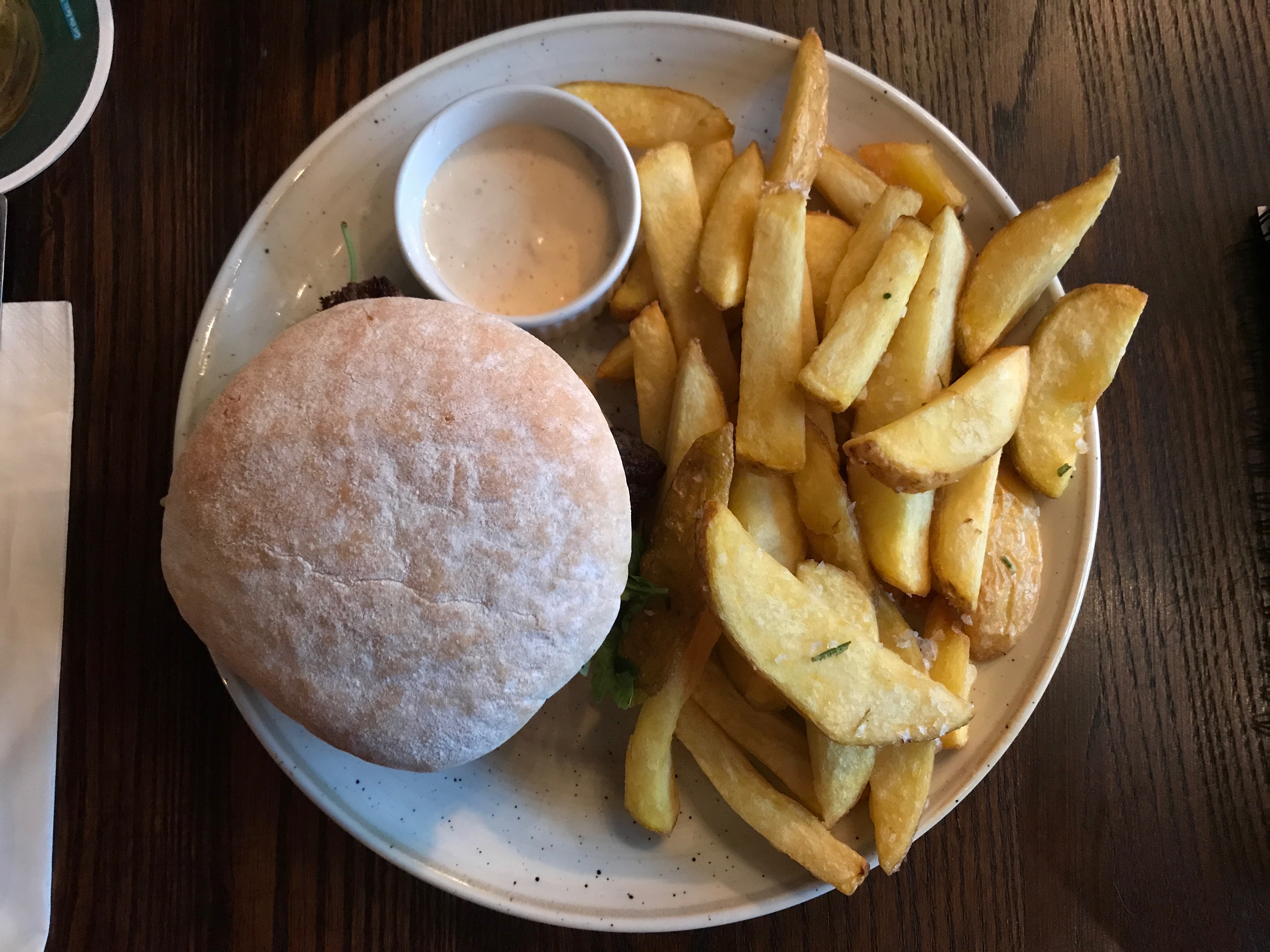 The side dish consists of country potatoes made of real potatoes and without fat or flavour enhancer. No wonder they taste natural and crispy. The potatoes come with a dip that taste a little like sauce Tatar, slightly fruity and with a tomato flavour.
All in all I get a huge portion of delicious food that is the perfect base for a ramble around Temple Bar.
The vegan Taco Bowl seems to be very popular at J.T. Pim's and I understand why. The giant bowl made of tortilla is filled with lots of things that make a vegan heart beat faster: there is sweet potato stripes, quinoa, homemade guacamole, salsa, tomatos, salad and beans. All ingredients are mixed together and topped with green chilis. In my eyes this is the perfect mexican combination. One that makes you addicted so you eat and eat even when your already full. And the best part: it's vegan!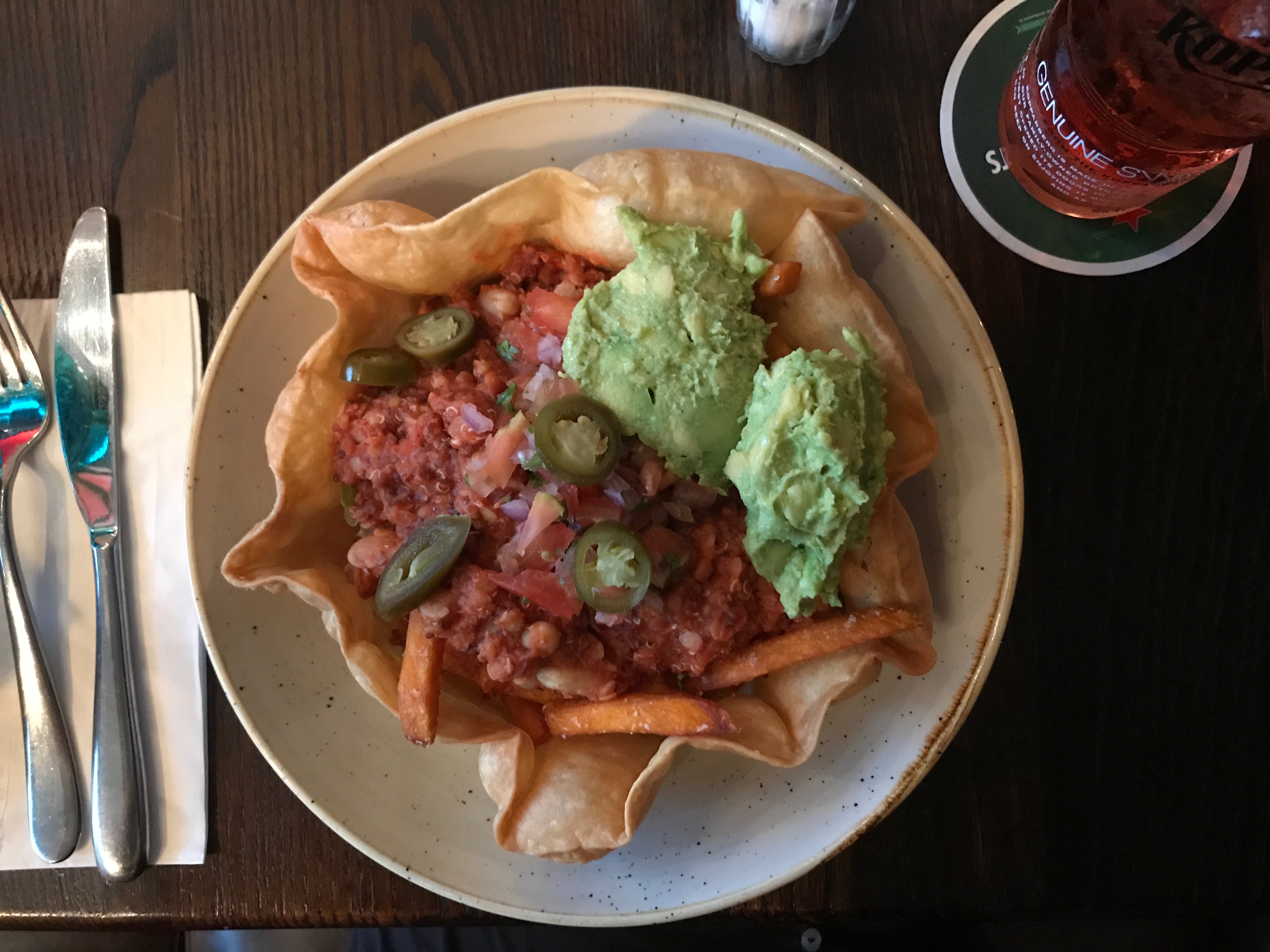 The different flavours fit perfectly and the particular taste of sweet potatoe builds a good contrast to the spice of the chilis. The size of my dish is so big that I can't finish it, although it is so delicious. But don't worry, if you have leftovers the staff will be happy to wrap them up for you.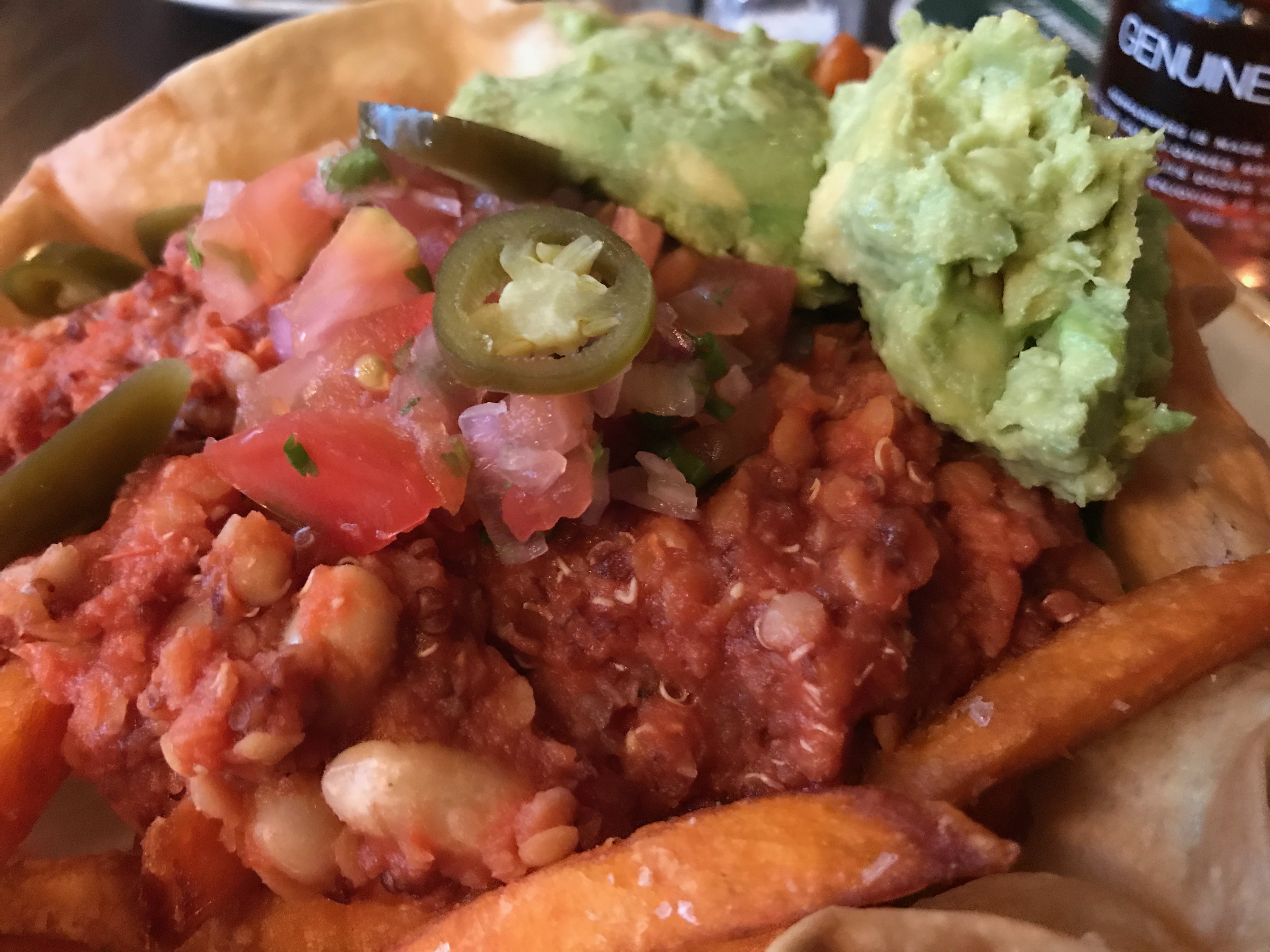 5. Nice-To-Know
Even if it seems to be unimportant we want to mention that the restrooms at the restaurant are so clean that you could probably eat on them. A very rare observation! After you have found your way out of the restroom you might just stay downstairs and check out the second restaurant bar right next door, which is called Gin Rummy.
Summary
The vegan Taco Bowl alone would already be worth a visit. But there is so much more to J.T. Pim's. The food is delicious and the ingredients are all fresh and absolutely tasty. The atmosphere is unique and you feel a little like in a modern high-class-very-important-people-meeting club. All this will make your afternoon or evening at J.T. Pim's unforgettable. Promise!
BOL